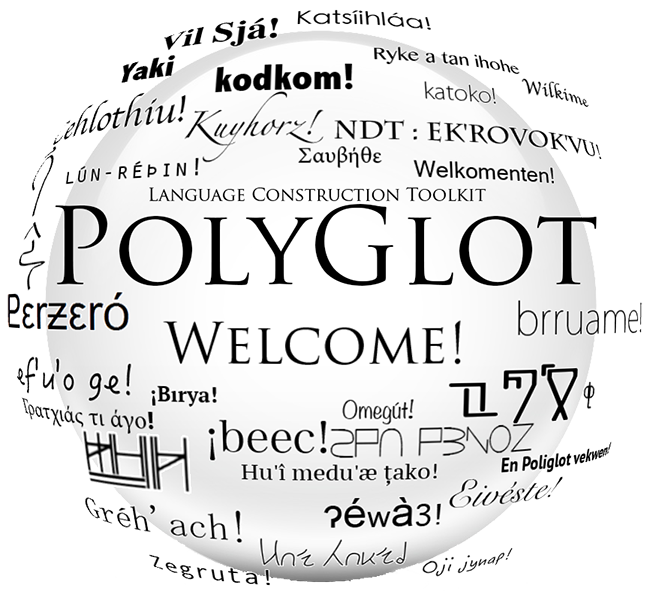 PolyGlot - Introduction

PolyGlot is a tool that is designed to help in the design, creation, and publication of constructed languages, or "conlangs." When I first got into language creation, I realized that there were no tools available that really met all of my needs. So I made one! Below, you'll find a list of its features, and if there's functionality you would like to see added, please feel free to request a new feature! PolyGlot is free and open source software that contains no advertising or other gross stuff. It is compatible with Windows, macOS, and Linux. Please enjoy!
Features
A lexicon with advanced search, classification, and word creation capabilities
A grammar guide/syntax repository with complex formatting and search functionality
User definable orthography, with automatic generation of word pronunciations (regular expression compatible for deep orthographies)
Full integration of the Zompist Word Generator
Support for lexicon imports from Excel sheets and CSV files
Full word class system
Full Part of Speech system, including enforced conjugation/declension rules and auto-generation of word forms
Formatted publishing to PDF, generating dictionaries (both conlang to natural language, and vice versa), chapter format for all grammar sections, gloss keys, orthographic rules, etc.
A statistical language analysis tool
An Etymology Engine with graphical generation of etymology trees
Customizable character macros, for difficult to type languages using many diacritic marks
Support for importing and embedding custom fonts (useful for languages with nonstandard or custom character sets)
User definable parts of speech with integrated glossing system
User definable rules for declension/conjugation, which automatically generate all legal forms of words
Conjugation rule debug window for the construction of highly complex conjugation/declension rule sets
Full logographic engine for languages that incorporate abstract symbols or entirely ideographic writing systems
Fully formatable grammar section, allowing language rules to be elegantly broken into chapters
Recording and playback of spoken examples within the grammar section
A useful phrasebook for commonly spoken phrases
Supports exporting lexicon to Excel
Interactive IPA chart with spoken examples and characters copied to clipboard (courtesy of https://www.internationalphoneticalphabet.org/)
Language statistics window for analysis of current lexicon
RTL character direction enforcement for applicable languages (useful with custom scripts)
Lexical consistency check tool to ensure compliance to language rules as you evolve them
A mass IPA conversion tool
Swadesh list import tool
Future Development

I plan on continuing to develop and refine PolyGlot so long as there's a healthy conlanging community and people who seem to be enjoying the program. Please feel free to suggest changes/enhancements, request new features, or just drop me a line to show off what you've created with the tool!
Support or Contact

The author of this software can be reached at Draquemail@gmail.com. All content included in this page and in the PolyGlot program is copyright (©) 2012-2022 Draque Thompson unless otherwise noted.